Culture | Language | Food & drink | Fashion & cosplay | Games | Films | Music, dance & performance | Art | Martial arts | Raffle | After-party
Below are details of the events that are confirmed to be taking place at the 2017 festival so far.
For the times of the events at Doki Doki 2017, see the festival programme.
Details of the events that took place at the previous festivals are available: 2016 | 2015 | 2013 | 2011
Culture
Talks, panels, stalls and workshops on various aspects of Japanese culture.
Panel: Japanese Pop Culture
A panel session with the following guests answering questions on Japanese modern pop culture:
Sophie Carroll - Sophie's Japan Blog
Andrew Osmond
Geri Coady - Geri Draws Japan
Panel: Traditional Japanese Culture
A panel session with the following guests answering questions of anyone interested in Japan's rich historical culture:
Akemi Solloway
Sumie Kent
Angela Davies
Helena Gaudekova
David Castan
Panel: Blogging Japan
A panel session with the following guests:
Sophie Carroll - Sophie's Japan Blog
Geri Coady - Geri Draws Japan
Demonstration: Japanese Calligraphy
Demonstrations by Aid For Japan. At the Aid For Japan stall the group will teach and show how to do Japanese Calligraphy throughout the day. Be sure to call there to get something nice for Christmas. All donations go to charity.
Talk: Aid for Japan
Akemi Solloway will give a talk about Aid for Japan, the charity she founded to provide long-term support for orphans of the 2011 Tohoku disaster in Japan, which the Doki Doki Festival is pleased to support.
Talk: Toys for the Soul – Religion and Legends
A talk by Helena Gaudekova. Discovering the spiritual dimension of traditional Japanese toys. Unlike the Euro-American tradition, Japanese toys will be shown as being very closely linked to spiritual and religious practices of Japan.
Talk: Shinto, Buddhist and Summer Festivals in Japan
A talk by Angela Davies. Angela will talk about Shinto, Buddhist and Summer Festivals that occur throughout the calendar and seasonal year. Including some of the more interesting locally held festivals such as the Nebuta festival in Aomori ,the Awa Odori in Tokushima and the Gion festival in Kyoto.
Talk: Bushido
A talk by Akemi Solloway Bushido is a Japanese term for the samurai way of life. The "way" itself originates from the samurai moral values, most commonly stressing some combination of frugality, loyalty, martial arts mastery, and honour until death.
Talk: Ghost in the Shell
A talk by Andrew Osmond (writer and reviewer in NEO Magazine). Ghost in the Shell controversially returned this year as a live-action Hollywood remake. Whether you liked or loathed it, come along to hear about the original classic anime film from 1995 - its director, its production, its impact and its continuing mysteries. Osmond is the author of a new book on Ghost in the Shell, though even he doesn't pretend to understand it all!
Japanese Society North West

The Japan Society North West (JSNW) was founded in May 2004. It is the successor to the UK Japan Society of the North West, which was founded in 1996 to provide a focus for local companies with business interests in Japan. Through meetings and other activities they provide opportunities for all those living in the northwest of England, and in north Wales, to understand and appreciate the people, culture and language of Japan.
The JSNW team will be supervising the Origami stall and will also be running the chopstick challenge, using chopsticks to move soya beans from one bowl to another.
Manchester Japanese Study Group
The Manchester Japanese Study Group is a mixed level study group for people learning Japanese in Manchester. They meet every Friday in Manchester from 5-7pm. They also hold a social event every month which members and their friends are welcome to attend.
The Manchester Japanese Study Group will be hosting the Japanese Language Competition and also running a few traditional Japanese festival games.
Japanese Rail Society
The Japanese Railway Society (JRS) was founded in 1991 in London to promote the knowledge of the railways of Japan in the UK & other non-Japanese-speaking parts of the world. Since 1991, there have been several exhibitions, a TV-show (on Naruhodo The World, Fuji TV), many meetings in the United Kingdom, Germany, the Netherlands, with many guided tours and meetings in Japan.
Language
Activities involving the Japanese language.
Japanese language competition
We are holding a competition for people learning to speak the Japanese language. It will be split into three levels: beginner, intermediate and advance. The Manchester Japanese Study Group will host the event and the competition will be judged by Yuko from Japan Society North West
This year our Language competition will be sponsored by Koichi from Tofugo who will provide free access prizes to Wanikani and free book prizes for each category from Super Cheap Japan please visit their websites for more information.
For an application form, please contact us.
Food & drink
Stalls serving Japanese food and drink.
Sushi Craft

Menu;
Nori salmon bento
Sushi set (vegetarian sushi available)
Chicken Katsu curry and rice (vegetarian option available)
Chicken Katsu and potato salad wrap
Breaded chicken curry wrap
Yakisoba stir fry noodle (vegetarian option available)
Teriyaki chicken don
Sweet Octopus
Japanese cakes and tea.

SugarSalt
Japanese bread products.

M.A.G.O. Cafe
M.A.G.O. Cafe will be providing a table waiting service for an extra charge on your food or drink purchase. Proceeds go to Doki Doki's supported charity.
We are happy to present the M.A.G.O Cafe! M.A.G.O. Cafe stands for Maids. Anime. Games. Otaku. Previously known as Otaku Cafe; M.A.G.O. Cafe is UK based travelling maid cosplay cafe. They and Sweet Octopus will be providing yummy authentic Japanese drinks and treats.
M.A.G.O. Maids will play a variety of games (Connect 4, Jenga, Operation, Guess Who & a Mystery game)
Competitions (Beat the Maids, Lucky Box and Garapon) Where customers can win prizes such as merchandise and small goodies
Polaroid Pictures which will be signed by the maids
Maid Talents such as drawing, origami and card tricks
Fashion & cosplay
All attendees are encouraged to attend wearing traditional or contemporary Japanese fashion or cosplay.
Please read the cosplay rules on the Doki Doki FAQ, especially the props rules, which apply to all attendees.
There are male and female changing rooms with coin-operated lockers available on-site.
Cosplay competition
A Cosplay Championship and Cosplay Masquerade with prizes will be judged by a panel of cosplay guests.
Full details of both cosplay competitions are available on the Doki Doki FAQ.
The Cosplay Championship is open to age 16+ only and the costume must be 80% made by the entrant.
The Cosplay Masquerade is open to everyone regardless of age or made/bought costume.
Prizes for both competitions have been sponsored by Forbidden Planet & Travelling Man.
Fashion show
If you've got a real passion for fashion and fancy showing off your latest J-style creation or your favourite kawaii outfit on the new DokiDoki runway stage, why not sign up and take part – it's free to anyone with an event entry ticket. Sign up on the day at the CLAM table.
The Fashion Show is not a competition, every entry will be put in a raffle to win prizes. For more information please check out the link below.
CLAM
CLAM - J Fashion NW UK will be attending Doki Doki and will be in charge of the fashion show area. Throughout the day the stage will host talks on various J-Fashions and maintenance (times TBA).
CLAM is the official J-Fashion group for the North West, representing lolita fashion in this area of the UK. They hold monthly meet ups for fashion enthusiasts, engaging in activities such as tea parties, museum trips, craft meets, shopping trips and fashion shows. At their stand they'll be displaying j-fashion magazines, doing chibi drawings and giving you the chance to try kawaii fashion items to raise money for Aid For Japan!
Kevin Pack Photography
Kevin Pack is our festival photographer for this year. Meet him in Hall A&B where he will be set up to take your cosplay or fashion photographs.
Furisode Demonstration
A demonstration by Elizabeth Hitchins who runs Kimono Stylist on how to dress in a traditional Furisode correctly. Elizabeth will also be running a Aid for Japan charity stand where you will be able to try on Kimono and Yukata.
Panel: Japanese Fashion 101
A panel session with the following guests answering the questions of anyone interested in Japan's fabulous fashion culture:
Tutorial: Wig Wearing and Styling
Members of CLAM will run an exciting tutorial on wearing and styling fashion wigs.
Talk: Cosplay Skits Around the World
Tab from Khaos Kostumes Looks at different styles of cosplay performance in different countries, featuring entries into the World Cosplay Summit, EuroCosplay and other inspiring videos.
Workshop: Cosplay props
Matt from Poseidon Props will run a workshop showing techniques for making cosplay props.
Talk: Cosplay Make-Up
Morning Girl Cosplay will be showing you various techniques to help you with the make-up side of your cosplay.
Cosplay guests
The following cosplayers will be attending the festival as guests, judging the cosplay competition, holding workshops and being involved in other activities.
Helen Alice Cosplay

Doki Doki 2017 would like to welcome Helen Alice Cosplay as one of our cosplay guests and judges this year. Helen Alice is from the midlands, with 9 years of cosplaying and crafting and over 40 cosplays under her belt. Helen is a sewing specialist, she's dabbled in almost every avenue of cosplay and is always up for helping people with their costumes, and coming up with fixes to every problem cosplay might throw.
A regular to competitions, Helen has won various awards, and qualified to represent the UK in 2017's European Cosplay Gathering. She's always here for helping people get up on stage, and will be a personal cheerleader for anyone who needs one. She's also worked for Sky, HBO and attends book launches with her cosplay work. Come by her table at the convention to come see her and check out her cosplays.
Argentum
Doki Doki 2017 would like to welcome Argentum as one of our cosplay guests and judges this year. Argentum has had many years of experience making and creating her own cosplay and entering various prestigious cosplay events.
Argentum will be running a Cosplay Clinic from her table at the event to help you with how to go about making bits of cosplay and where to get your supplies from. Visit her and get all your cosplay questions answered.
Morning Girl Cosplay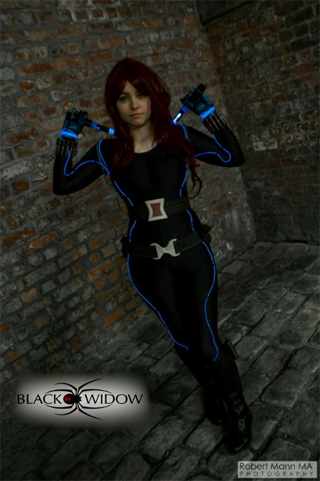 Doki Doki 2017 would like to welcome back Morning Girl Cosplay from our previous festival as one of our cosplay guests and judges this year. Morning Girl makes most of her own costumes and loves to cosplay themes from many different genres. Morning Girl Cosplay will also be hosting a Cosplay make-up talk at 15:30 on the Fashion Stage
"I usually cosplay characters from movies, games and comics but I occasionally cosplay characters from Anime. I love cosplaying and going to conventions because I love meeting new cosplayers! I also love doing charity work and children's parties as a superhero or princess just to see the children smile and know that I have made their day."
Fashion guests
The following fashion guests will be attending the festival, taking part in talks, panels and being involved in other kawaii activities during the day.
Bunniebanshee
Doki Doki 2017 would like to welcome Bunniebanshee as one of our fashion guests this year.
"Heyo~! I'm Bunniebanshee~! I'm a fashion blogger who loves to wear a variety of Jfashions and other styles with a hint of kawaii~! I'm so happy to be at Doki Doki Festival joining the Japanese Street Fashion NW cuties at their table~! You can also see me during the fashion show and the Jfashion panel! I can't wait to see you there~! You can catch me on instagram and twitter @pixieloubunnie and also on my blog."
Mica
Doki Doki 2017 would like to welcome Mica as one of our fashion guests this year.
Mica has been wearing lolita fashion for 10 years. As community administrator for Leeds she organises and hosts monthly meet ups and events. She is also a part of the team which organises the UK's biggest and best annual lolita event - the tea party club anniversary. On top of this, she is also one of the hosts of a popular and possibly the only lolita podcast called "the tea." At Doki Doki, she'll be participating in some of the kawaii panels. You can meet her at the CLAM table.
Games
Video games
The Nights of Gaming will be providing a selection of modern and retro Japanese video games to play in our Retro Game area. The Nights of Gaming will be bringing along the following retro systems; Mega Drive, SNES, Famicom, Saturn, Dreamcast and N64. Please be aware the retro game and board game area is restricted by stair access only at the event! The sports hall reception staff are there to assist anyone who have disabled issues.
Arcade Club
Based in Bury, Arcade Club is a Time Machine full of Pinball and Arcade Machines where you can get access to some of the best games ever created! They will be bringing along arcade machines to the event, all Japanese themed!
Yu-Gi-Oh!
A Yu-Gi-Oh! trading card game tournament with a prize for the overall winner. Sign-up will be on the day. Yu-Gi-Oh! Deck list needed, 40 minute rounds, best of 3, Normal banlist followed. Prizes are sponsored by Fan Boy 3.
Go
Demonstrations of the ancient board game of Go by the British Go Association.
Other Traditional Japanese Board Games
Discover the world of traditional Japanese card and board games! The Traditional Japanese Games Club will be providing a selection of traditional Japanese board games such as Shogi, Hanafuda, Riichi Mahjong and Uta-garuta. Please be aware the board game area is restricted by stair access only at the event! The sports hall reception staff are there to assist anyone who have disabled issues.
Board and Card Games
An area will be set aside this year overlooking one of the main halls where you can join in with board games or card games and play with your friends. We will not provide anything for this area other than tables or chairs so if you wish to bring your own games please do. Please be aware the retro game and board game area is restricted by stair access only at the event! The sports hall reception staff are there to assist anyone who have disabled issues.
Films
Anime and live-action Japanese film screenings throughout the day.
The Garden of Words
Directed by Makoto Shinkai, 2014; cert. 12; anime; subtitled; released by All The Anime; trailer
The Garden of Words is a 2014 Japanese anime drama directed and edited by Makoto Shinkai, The film was made into a manga, with illustrations by Midori Motohashi, and later novelized by Shinkai, both in the same year as the film. This film screening is sponsored by All the Anime. When Takao, a young high school student who dreams of becoming a shoe designer, decides to skip school one day in favour of sketching in a rainy garden, he has no idea how much his life will change when he encounters Yukino.
A Letter to Momo
Directed by Hiroyuki Kazuo, 2011; cert. PG; anime; subtitled; released by All The Anime; trailer
A Letter to Momo is a 2011 Japanese anime drama written and directed by Hiroyuki Okiura. This film screening is sponsored by All the Anime. Following the death of her father Kazuo, Momo and her family travel from Tokyo to the Seto Inland Sea. Momo carries her father's unfinished letter, which contains only the words "Dear Momo".
Memories of Matsuko
Directed and written by Tetsuya Nakashima, 2006; cert. 15; live action; subtitled; released by Third Window Films; trailer
Memories of Matsuko is a 2006 Japanese live action film written and directed by Tetsuya Nakashima. It is based on a Japanese novel by Muneki Yamada. This film screening is sponsored by Third Window Films. The story begins with Sho cleaning out the remaining belongings of his recently deceased aunt Matsuko. Sho gradually learns many details of his aunt's life, and it is through his investigations that the audience learns the story of Matsuko's past.
Music, dance & performance
SOAS Min'yo
Formed in 2012, SOAS Min'yo are a Japanese folk group of singers, shamisen players, shakuhachi players, percussionists and dancers.
Akari Mochizuki
Akari Mochizuki is the only enka (Japanese blues) singer in UK.
Akari started singing enka at the age of three. She studied drama in Cambrige and contemporary music in London and started her career as a professional singer in 2009. Since then, she has performed on many occasions, showcasing Japanese folk music with Tsugaru Shamisen virtuoso, Hibiki Ichikawa.
Taiko
Performances of taiko, traditional Japanese drumming, by Thunderdrummers.
Thunderdrummers Cumbria are a community based Taiko drumming group from Cumbria and North Lancashire. They play for fun, fitness and creativity, and pass on their skills to people who want to learn.
GS 1.0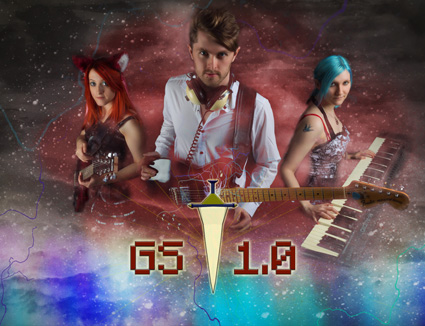 At the 2017 Doki Doki Festival Evening Event there will be a return performance by GS 1.0.
GS 1.0 are an English three-piece Alt Rock band inspired by fantasy! Heavily inspired by Japan, they love fantasy in all its forms, from anime and gaming, to movies and beyond. Their quest is to make great music inspired by stories. They last performed at our 2015 festival.
GS 1.0 focus on writing original songs, whether it's inspiration from alternate worlds or celebrating specific well-known characters an example being their Naruto themed album 'Songs Of Shinobi', theyalso enjoy putting their own spin on everyone's most well-loved anime and gaming themes. Get ready to hear some of your favourite anime openings such as Ouran High School Host Club, Yuri!! On Ice, One-Punch Man, Pokemon and more...
Awa Odori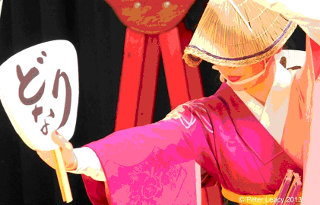 Dancer Awa SirenAwa Odori will give dance performances during the day.
DJ Neo Kei
DJ Neo Kei will be playing a variety of styles of Japanese popular music throughout the day.
Koto
Performances on the koto, a traditional stringed instrument, by Sumie Kent.
Shamisen
Liam Morgan will be playing the shamisen, a 400 year old instrument. Don't let its age fool you – it has a fast, heavy and distinct sound!
Madly Scientific Productions
Madly Scientific Productions is run by Evelyn - a cosplayer, performer and singer who loves to sing songs from popular and niche anime and games. She has been singing for her whole life, from being classically trained to switching to a more relaxed style when she discovered her love of anime and j-pop. She is an amateur performer who loves to have fun with her act and create new memories and experiences.
Maid Fuka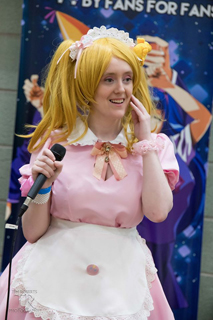 Maid Fuka is Karaoke Idol! Inspired by her love of singing and Performing in the Maid cafes she's been apart of, She sing songs from anime, games as that is her passion and also help her improve her singing along the way. So get ready to clap and sing along with her has she love to see you smile and have fun when she performs.
Hanami Maid Cafe
Welcome to Hanami Maid Cafe! They are an event based maid café. The name comes from the Japanese word, and custom of, "Hanami", a flower viewing party, where friends and families gather to view the beautiful cherry blossoms. Their idol unit will be performing a set of songs and dances to keep you entertained over the course of the festival. They also have a table, where you can play games and even win chekkis with your favourite maids!
Iridescent Idols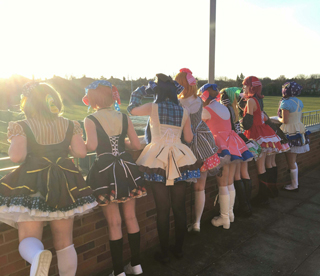 Iridescent Idols are a group of shining individuals who bonded over a love for idol culture and wish to share it with others. They dance to bring to light the joy of being idols, and their aim is to bring a smile to the face of everyone who watches them perform! The group performs as Muse from the idol anime *Love Live!*
Aquaria Project
Aquaria Project are an idol cosplay group from Manchester who are coming back to perform at Doki Doki for the second year in a row! Expect all your favourite Aqours songs, as well as a couple of new surprises! They hope to see you all there!
Nokemono Maid Cafe
Welcome to Nokemono Maid Cafe! Are you interested in mythology? Stories told in your childhood to scare you? Myths which sound so magical and so real? Creatures hidden in the dark? Story's about joining the dark side with cookies. This maid café is based on creatures of the dark. Each maid has her own story to tell. Are you afraid to meet them or become one of them? They will have a table at the event, where you can buy prints and jewellery and be scared!
Art
Various activities involving different forms of Japanese art.
Origami
Lessons in origami, the traditional Japanese art of paper folding, plus finished models for sale, with proceeds going to Doki Doki's supported charity.

Artist panel
A panel session featuring some of the artists attending the festival, where they will answer questions put to them by the festival organisers and the audience.
Sophira-Lou
ShonaMary from ShonaMary Designs
Hoz-Boz
LuciieSpirit
TBA
Art competition
Draw a piece of art inspired by anime, manga, video games, Japanese culture, etc. The only rule is that the entry must be drawn on the day on official competition entry paper. The event will run from 12:00 to 15:00 in Hall A&B seating area. The competition will run during the afternoon and be judged by some of the artists attending the festival. Prizes are sponsored by Fred Aldous Ltd.
Martial arts
Demonstrations of various forms of Japanese martial arts.
Samurai & Shinobi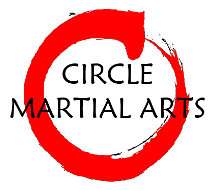 Demonstrations of samurai and shinobi (ninja) martial arts by Circle Martial Arts.
Workshops will be held to learn how to use some of the weapons. Have your photograph taken with a fully-armoured samurai – proceeds willl go to Doki Doki's supported charity and to support Circle Martial Arts' dojo as it improves its facilities and provides an amazing place to train.
Kobudo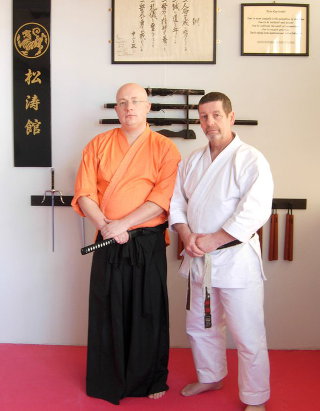 Demonstrations of the Okinawan weapon-based martial art of kobudo by Bukido Kobudo Dojo.
Black Tiger Karate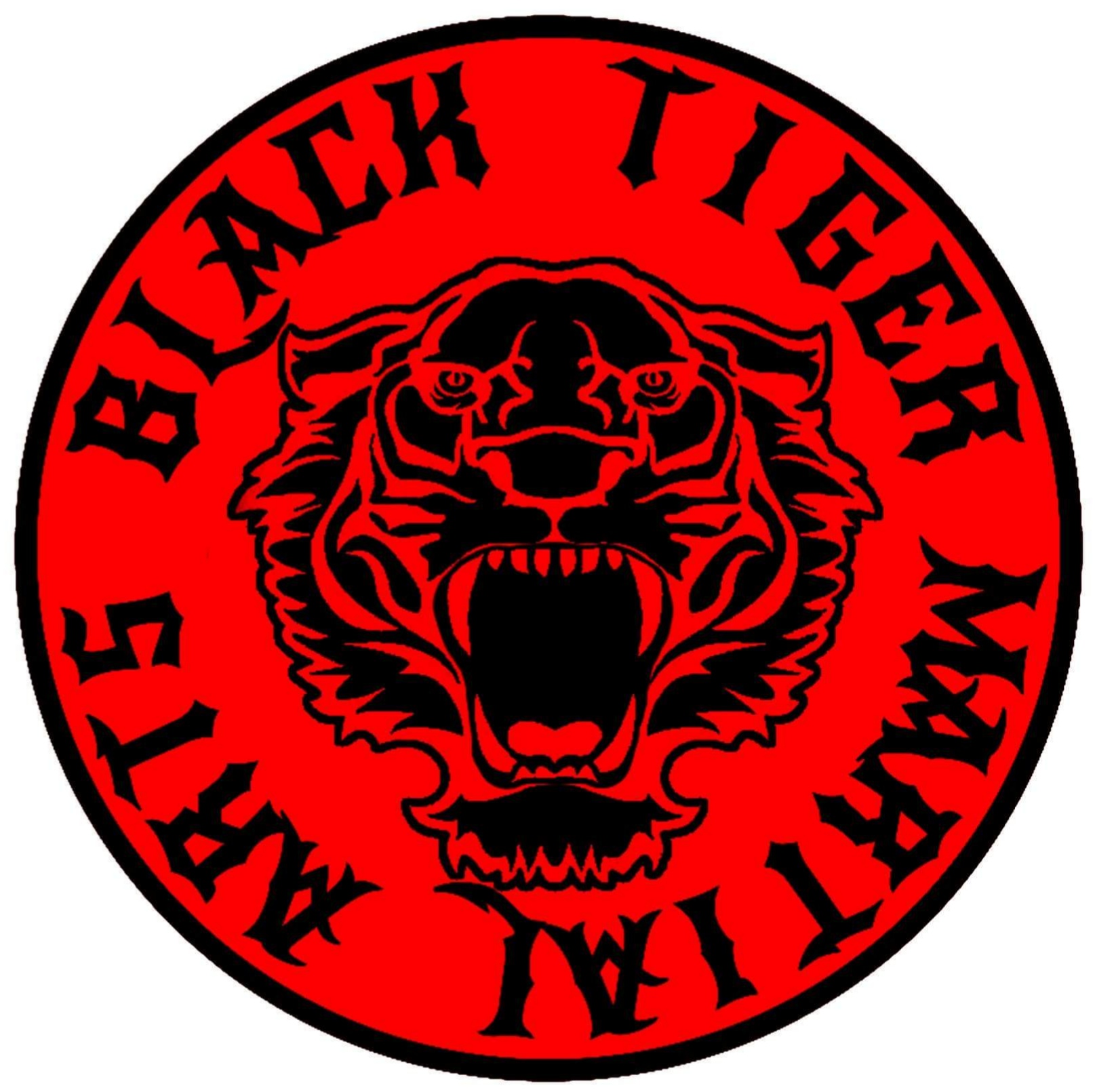 Demonstrations of the Ashihara Karate one of many "full contact" systems in karate emphasizing realistic combat, physical toughness, and practicality in it's training curriculum by Black Tiger Karate Dojo.
Raffle
A raffle, with all proceeds going to Doki Doki's supported charity.
Raffle
1st. PS4 part Sponsored by GAME
2nd. SNES Classic Mini
3rd. Stall holder's goody box
4th. Gundam Model Kit (Forbidden Planet)
5th. Pokemon Playing Card Game (Travelling Man)
6th. Ghibli Origami (Forbidden Planet)
Plus many more prizes!
After-party
In the evening following the main festival, there will be a cosplay after-party co-hosted by the Manchester University Japanimation Society (MUJS), with DJs playing J-pop/rock/dance, anime and video game themes.
Taking part in the evening event will be, DJ Neo Kei and DJ Happosai. MUJS will be organising games and events throughout the evening and there will be a charity Maid Cafe at the event. Details to be confirmed.
It will be held at The Footage (on the same road from Sugden Sports Centre), from 9pm until 2am. Entry will be free-of-charge and open to people aged 18 and above only.
Prizes for competitions at the evening event will be sponsored by Arrow Films to promote Takashi Mikke's new film Blade of the Immortal please visit their websites for more information about the film.