After-party | Raffle | Culture | Language | Food & drink | Fashion & cosplay | Games | Films | Music, dance & performance | Art | Martial arts
Below are details of the events that are confirmed to be taking place at the 2019 festival so far.
Please note all hour long talks and the film screening will now take place in The Sandbar which is next door to our venue's main entrance. If you wish to see the first talk when they are announced, you must have a pre-bought ticket and we will have someone on the entrance door to The Bread Shed to give you a festival wristband. Timetable TBA
Details of the events that took place at the previous festivals are available: 2018 | 2017 | 2016 | 2015 | 2013 | 2011
After-party
In the evening following the main festival, there will be a cosplay after-party co-hosted by the Manchester University Japanimation Society (MUJS), with DJs playing J-pop/rock/dance, anime and video game themes.
Taking part in the evening event will be, DJ Neo Kei and DJ Happosai. MUJS will be organising games and events throughout the evening and. Details to be confirmed.
It will be held at The Sandbar (next door Sugden Sports Centre), from 21:00 until 01:00. Entry will be free-of-charge and open to people aged 18 and above only.
-->
Culture
Talks, panels, stalls and workshops on various aspects of Japanese culture.
Panel: Japanese Pop Culture
A panel session with the following guests answering questions on Japanese modern pop culture:
This panel session will be taking place on Sunday.
Jamie Ryder
Geri Coady - Geri Draws Japan
Jennifer Lynch
TBA
Panel: Traditional Japanese Culture
A panel session with the following guests answering questions of anyone interested in Japan's rich historical culture:
This panel session will be taking place on Saturday.
Angela Davies
Akemi Solloway
Jennifer Lynch
TBA
Panel: Travel to Japan
A panel session with the following guests answering questions of anyone interested in visiting Japan and giving advice on the best places to see:
This panel session will be taking place on Sunday.
Angela Davies
TBA
TBA
Demonstration: Japanese Calligraphy
Demonstrations by Aid For Japan. At the Aid For Japan stall the group will teach and show how to do Japanese Calligraphy throughout the day. Be sure to call there to get something nice for Christmas. All donations go to charity.
Talk: Aid for Japan
Akemi Solloway will give a talk about Aid for Japan, the charity she founded to provide long-term support for orphans of the 2011 Tohoku disaster in Japan, which the Doki Doki Festival is pleased to support.
Talk: How Comics Have Retold The Story Of The Samurai For A Modern Generation
When it comes to pop culture, comics have grown into a global force, representing different customs around the world. History has been captured through comic giants like Marvel and DC. The same can be said for Japanese history and the representation of samurai.
Join Jamie Ryder for his talk on how comics have retold the story of the samurai for a modern generation. Through characters like Wolverine, he'll explore the western perspective of bushido and how writers such as Chris Claremont introduced Japanese culture into mainstream comics. He'll also address the status of female samurai and their treatment as warriors.
Talk: History of Manga
Join Jennifer Lynch for a talk which will discuss how Japanese illustration has evolved since the Heian period, and impacted the creation of the phenomenon that is contemporary manga.
Jennifer's PhD research is a continuation of her undergraduate and Masters in Research studies, focusing on representations of gender and sexuality in Japanese illustration.
Talk: The Japanese Educational System
Join Yuko Howes as she will be talking on the Japanese educational system and culture around it. The Japanese education system is very different from the British one, and influences many aspects of Japanese people's life. Knowing about it will be very helpful especially for the learners of the Japanese language and those who are going to Japan to teach English.
Talk: The Ancient Art of Taiko Drumming
Mary Murata of Kaminari UK Taiko drummers will talk about the development and history of modern taiko, its journey from the festivals and communities of Japan to the global stage, travelling across the globe to the US, South America, Europe and arriving in the UK. The talk will show you how taiko has changed and evolved as it made this journey and what it means to those who play it.
Mary Murata started to study Japanese language and culture 30 years ago, and discovered a passion for taiko 12 years ago. She hopes to share a wealth of knowledge and her deep passion for taiko drumming at this event.
Japanese Society North West

The Japan Society North West (JSNW) was founded in May 2004. It is the successor to the UK Japan Society of the North West, which was founded in 1996 to provide a focus for local companies with business interests in Japan. Through meetings and other activities they provide opportunities for all those living in the northwest of England, and in north Wales, to understand and appreciate the people, culture and language of Japan.
The JSNW team will be supervising the Origami stall.
Manchester Japanese Study Group
The Manchester Japanese Study Group is a mixed level study group for people learning Japanese in Manchester. They meet every Friday in Manchester from 5-7pm. They also hold a social event every month which members and their friends are welcome to attend.
The Manchester Japanese Study Group will be hosting the Japanese Language Competition and also running a few traditional Japanese festival games.
Language
Activities involving the Japanese language.
Japanese language competition
We are holding a competition for people learning to speak the Japanese language. It will be split into three levels: beginner, intermediate and advance. The Manchester Japanese Study Group will host the event. This event will be held in a small meeting room upstairs from Sugden Sports Centre main hall at 11:30am. This area has a new disabled lift for access, please ask the sports hall staff to assist you.
For an application form, please contact us. Or sign up at the main desk on the day
Food & drink
Meian Maid Cafe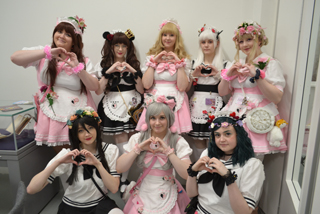 Meian Maid Cafe is a pop up cafe inspired by those in Japan's Akihabara district. The cafe has a twist, which means their waitresses wear uniforms that have a sweet or a spooky theme, but overall are inspired by the concept of 'kawaii' or looking cute. The Maid Cafe culture endeavours to make customers feel at home, by serving delicious tea and cakes, performing dance routines from Japanese pop music, and playing games to ensure everyone is well-fed and relaxed!
Meian Maid Cafe is not for profit, all their proceeds go to Doki Doki's supported charity. You can catch them at various Japanese culture events, anime conventions and at standalone events throughout the UK. Check their events page for details of when the next events will take place!

Panel: Japanese Snack Tasting
This panel will be running on both days.
Tofu Cute returns to Doki Doki Festival to bring you a fun filled, action packed and mouth watering Japanese Snack Tasting Panel. They will be showing crazy Japanese adverts, watching anime clips, and playing lots of silly games, (which may or may not involve a hostage situation). If you're lucky you may also get to try lots of FREE JAPANESE CANDY, such as iconic Pocky, rare Japanese biscuits and lots of exiting and weird Candy (which lets face it, is the only reason you're coming).
Sushi Craft

Menu;
Fish Sushi Set
Vegetable Sushi set
Teriyaki Chicken Don
Chicken Yakisoba Noodle
Vegetable Yakisoba Noodle
Chicken Katsu Curry and Rice
Vegetable Katsu Curry and Rice
Chicken Curry Wrap
Strawberry Daifuku
SugarSalt
Specialists in Japanese bread products and cakes in Chester.

Fashion & cosplay
All attendees are encouraged to attend wearing traditional or contemporary Japanese fashion or cosplay.
Please read the cosplay rules on the Doki Doki FAQ, especially the props rules, which apply to all attendees.
There are male and female changing rooms with coin-operated lockers available on-site.
CLAM Activities: All proceeds go to Aid For Japan
CLAM will be running various charity activities on their table throughout the day for our sponsored charity Aid For Japan. Turn up at the CLAM table for drawings, makeovers, tarot readings and general nonsense.
Panel: Cosplay
A panel session with the following guests answering questions on cosplay culture:
TBA
TBA
TBA
TBA
TBA
Cosplay competition
A Cosplay Championship and Cosplay Masquerade with prizes will be judged by a panel of cosplay guests.
Full details of both cosplay competitions are available on the Doki Doki FAQ.
The Cosplay Championship is open to age 16+ only and the costume must be 80% made by the entrant.
The Cosplay Masquerade is open to everyone regardless of age or made/bought costume.
Fashion show
If you've got a real passion for fashion and fancy showing off your latest J-style creation or your favourite kawaii outfit on the new DokiDoki runway stage, why not sign up and take part – it's free to anyone with an event entry ticket.
The Fashion Show is not a competition, every entry will be put in a raffle to win prizes. For more information please check out the link below.
Games
Video games
Yu-Gi-Oh!
A Yu-Gi-Oh! trading card game tournament with a prize for the overall winner. Sign-up will be on the day. Yu-Gi-Oh! Deck list needed, 40 minute rounds, best of 3, Normal banlist followed. This event will be held in a small meeting room upstairs from Sugden Sports Centre main hall at 12:30am. This area has a new disabled lift for access, please ask the sports hall staff to assist you. Prizes are sponsored by Fan Boy 3.
Go
Demonstrations of the ancient board game of Go by the British Go Association.
Other Traditional Japanese Board Games
Discover the world of traditional Japanese card and board games! The Traditional Japanese Games Club will be providing a selection of traditional Japanese board games such as Shogi, Hanafuda, Riichi Mahjong and Uta-garuta. The board gaming area is now located in Halls A&B.
Films
Film screenings will be announced shortly.
Music, dance & performance
Panel: Japanese Music
A panel session with the following guests answering questions of anyone interested in traditional Japanese Music and instruments:
This panel session will be taking place on Saturday.
David Hughes
Akari Mochi
TBA
DJ Neo Kei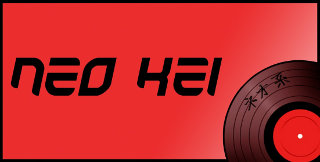 DJ Neo Kei will be playing a variety of styles of Japanese popular music throughout the day.
SOAS Min'yo

SOAS Min'yo will be performing Saturday only.
Formed in 2012, SOAS Min'yo are a Japanese folk group of singers, shamisen players, shakuhachi players, percussionists and dancers.
Taiko
Thunderdrummers will be performing Saturday only.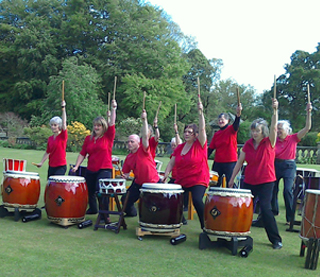 Performances of taiko, traditional Japanese drumming, by Thunderdrummers.
Thunderdrummers Cumbria are a community based Taiko drumming group from Cumbria and North Lancashire. They play for fun, fitness and creativity, and pass on their skills to people who want to learn.
Taiko
Kaminari UK will be performing Sunday only.
Performances of taiko, traditional Japanese drumming, by Kaminari UK.
Kaminari UK are celebrating their 10th year in 2019. Based in York, they have played at events and fundraisers across the north of England from charity fund raisers to the Great Yorkshire Fringe.
Awa Odori
Awa Siren will be performing both days.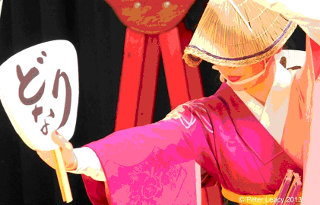 Dancer Awa Siren Awa Odori will give dance performances during the day.
Koto
Sumie will be performing both days.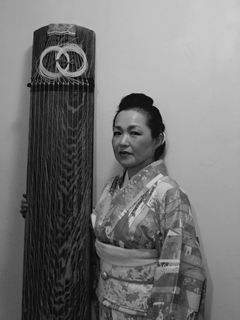 Performances on the koto, a traditional stringed instrument, by Sumie Kent. Sumie started to play Koto aged 8, under Ikuta-Ryu Michio Miyagi School, trained by Ryoko Asamizu and Tadashi Tajima, she played in Hokkaido, Osaka, Yokohama and Okayama in Japan. After moving to the UK she has played at many concerts and events, notably; Pulse Project at Huddersfield University, Women of the World, Introducing music from East to West in London and a Wagamama advert.
Shamisen
Liam will be performing both days.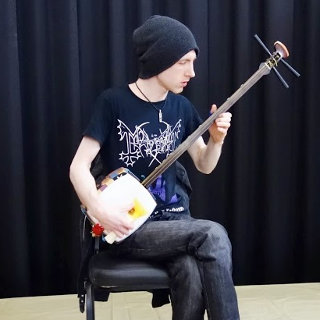 Liam Morgan will be playing the shamisen, a 400 year old instrument. Don't let its age fool you – it has a fast, heavy and distinct sound!
Maid Fuka
Maid Fuka will be performing both days.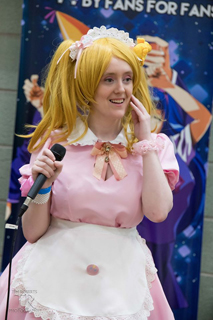 Also back this year is the wonderful Maid Fuka who is a Karaoke Idol! Inspired by her love of singing and Performing in the Maid cafes she's been apart of, She sing songs from anime, games as that is her passion and also help her improve her singing along the way. So get ready to clap and sing along with her has she love to see you smile and have fun when she performs. On Saturday she will be running various events at her stand all for charity.
Odoriimin'
Odoriimin will be performing Saturday only.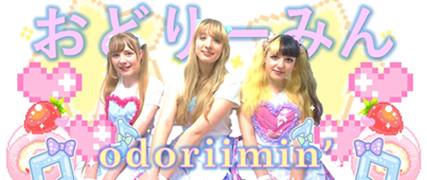 Odoriimin' is Jpop dance trio who perform songs from your favourite Japanese idols such as Perfume, E-Girls, Vocaloid and more. Odoriimin' is a combination of the Japanese word for dance 'odori' and the romanized form of dreaming 'doriimin', inspired by the Japanese maid cafe Maidreamin' and the dance cover group ILoVU. Their group consists of three Jpop Izzy, Jem and Jasmine. They hope our exciting choreography and dancing with original maid-themed costume designs will be your dream idol performance!
Orion Idols
Orion Idols will be performing both days.
Orion Idols return to the stage again this year and will be doing sets on both days of the festival. "Hello! We are Orion Idols! We are a 3 girl idol group with a dream to make everyone smile."
Eden Idol
Eden Idol will be performing Sunday only.

Meian Maids
Meian Maids will be performing a routine on both days.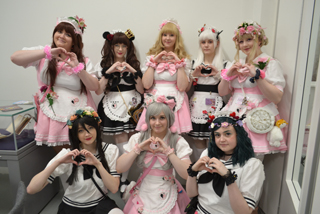 Doki Doki 2019 is happy to announce 2 dance routines from the Meian Maids who will also be running the Maid Café this year in Halls A&B.
Citron Idol
Citron Idol will be performing Sunday only.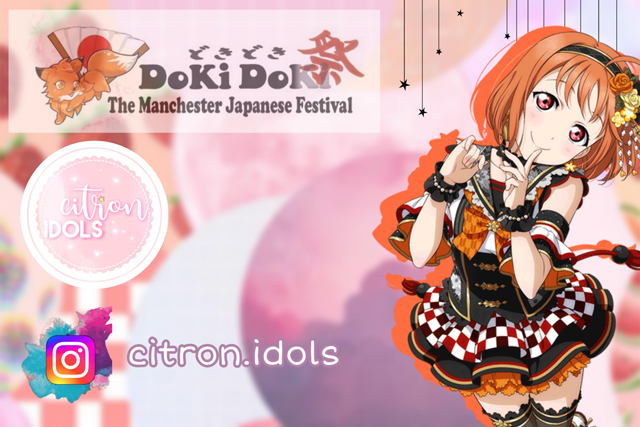 This is the 1st year on the Doki Doki stage for Citron Idols. "Hello! We're a three member love live dance group from the UK called Citron! We're very excited to be performing at Doki Doki Manchester Festival 2019 this year! I hope you stick around for our performance!"
Art
Various activities involving different forms of Japanese art.
Origami
Lessons in origami, the traditional Japanese art of paper folding will be run by the Japan Society North West team on Saturday only, with proceeds going to Doki Doki's supported charity.

Artist Demonstrations
At Doki Doki 2019 we have 2 artist guests who will be running art demonstrations at their table. Please visit them for advice and help in all your art projects. Times of demonstrations are TBC.
Workshop: The Storyboard
This workshop will be running on Sunday in a small meeting room upstairs from Sugden Sports Centre main hall.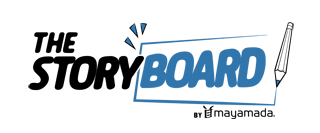 Join Nigel from Mayamada on Sunday as he delivers a comic story session between 12.30 and 2pm, giving you the opportunity to create your own story in this exciting session, The StoryBoard! Whether you're an artist or writer, join other creatives alongside manga brand mayamada to create fantastic characters and storylines in a safe and friendly environment at Doki Doki 2019!
Mayamada deliver creative comic story workshops, view their website link above for more information. Through fun and engaging use of storytelling, they unlock the creative potential in young people and help manga lovers get closer to the storytelling process.
Artist panel
A panel session featuring some of the artists attending the festival, where they will answer questions put to them by the festival organisers and the audience.
This panel session will be taking place on Saturday.
Chie Kutsuwada
Inko
Sonia Leong
Sophira Lou
Art competition
Draw a piece of art inspired by anime, manga, video games, Japanese culture, etc. The only rule is that the entry must be drawn on the day on official competition entry paper. The event will run from 12:00 to 15:00 in Hall A&B seating area and be judged by this years artist guests.
Martial arts
Demonstrations of various forms of Japanese martial arts.
KenShinTai Kai Ju-jitsu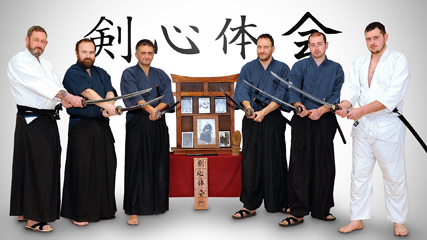 KenShinTai Kai Ju-jitsu will be demonstrating on Sunday only.
The KenShinTai Kai (School of sword, spirit & body), was founded in 1980 by Sensei Steve Crooks (4th Dan Ju-jitsu, 4th Dan Judo, 2nd Dan Iaido), for the study of Budo - Japanese Martial Arts. They are a small and friendly club.
The style taught at KenShinTai Kai is called Tenshin Ryu and was developed by Sensei Crooks over 45 years of training and includes techniques collected from traditional and modern styles of Ju-jitsu, Judo, Aikido & Kobudo (weapons). Techniques are suitable for men and women of any age as they do not rely on power or strengths.